Ariphoto: The Ultimate Affirmation of Contemporary Life and its Changes
6:45 pm, a Saturday evening. The gallery is about to close it doors. Still many visitors remain inside, not wanting to leave, wishing to continue to talk to the artist. A man joins a conversation between Arimoto and his visitors. They won't finish their discussion soon, hindering my plan to talk to him. The compilation of his Ariphoto series entitled 'Tokyo Circulation' has sold out its first stock in a week. 'I feel ashamed for not knowing such a great photographer' a blogger apologised. For the art world, Arimoto is an up and coming photographer. For the deeper Japanese photography world, however, he is a hero making a comeback.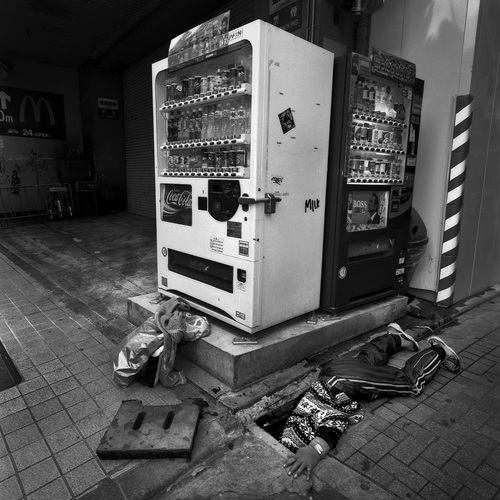 Eight years after winning the celebrated Taiyo award for 'Saizo yori Shozo (Portrait of Tibet),' he embarked on a new project, after relocating to Tokyo. Listening to his stories of shooting for 10 years in Shinjuku set on a single passage that he followed every time, to the point that allows his practice work as a fixed point observation, there emerges a key to understand this body of work that primarily addresses the city as Tokyo, and Tokyo as Shinjuku, which is the subjects as those people who live on the street.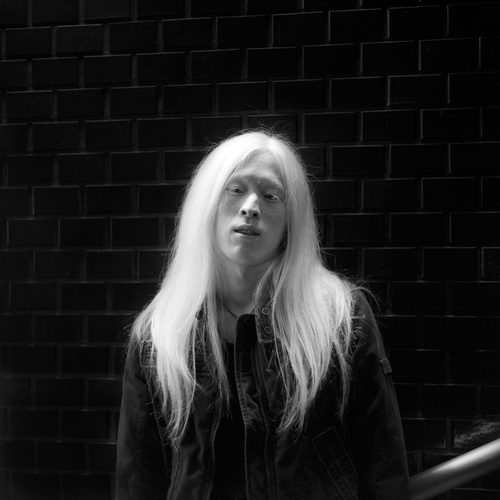 With wistful and gloomy eyesmore affecting than a film star, Masao is a homeless man who is a restless troublemaker. The man on a monocycle with a cat on his shoulder replied, when asked why he rides the monocycle with a cat on his shoulder, 'because riding a bike was not exercise for my cat.' A man in a studded bikers' jacket asked Arimoto to call him, 'not a punk but psycho billy.' A half-Philippine, a half-Japanese 25 year-old guy living homeless for over 10 years stands against a tree in a state ofsatori that suggests a far older man. A woman shows off her breasts to his camera. An albino man illuminates the space that surrounds him. Any kind of weakness — social, mental, physical, material — in Arimoto's photography is exceedingly cool, overwhelmingly odd and vivid.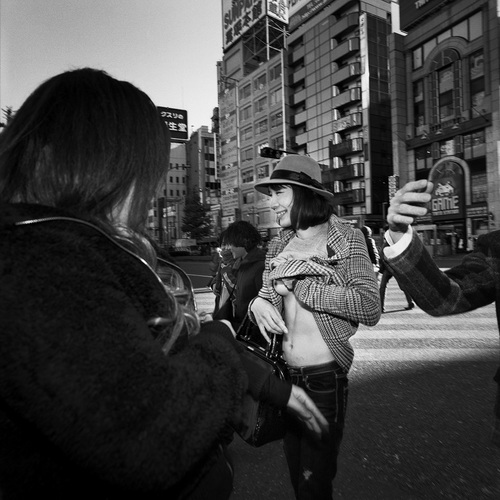 The eyes are like those looking on insects in 'Tokyo Debugger', set in Okutama, a mountainous district at the western periphery of Tokyo. Arimoto has a profound interest in biology and told me a theory that the earth is quantitatively a planet dominated by insects. 'Many dislike insects, blocking them with walls and floors, and when an insect enters our territory we scream, and try to get rid of it. But the reality is that we live in the world of the insects.' In the same way, we consider honeycombs to be part of nature, but man-made cities are also a nest for us humans, and therefore a quite organic entity, he said.
'Tokyo is convenient and a cosy nest for homeless people.' When it rains, an underground passageway and the roof of a building can be a shelter. There is abundant leftover food available. You can pick up cigarettes left at smoking areas. The homeless people, with the entire city as their nest, a pillow as a hat, a blanket as a cape, with a shoulder bag, the city shrouds them, while they are like a parasite stretching out to the tree, intertwining their life with the city.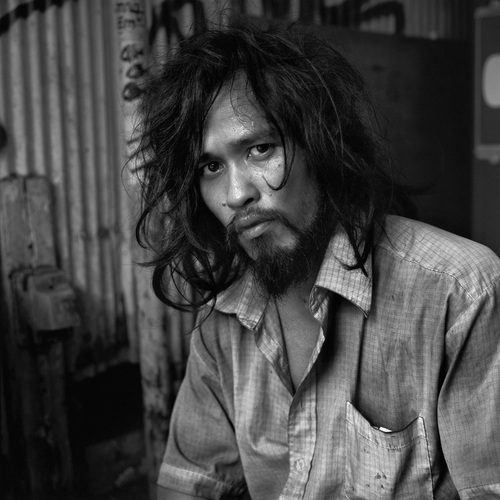 Shinjuku has been going through kaleidoscopic changes. The dug-up lot where iconic Koma Theatre was located. As soon as a new building goes up, the memory of the past building disappears. Scrap and build is Tokyo's notoriousmantra. The noise in the street of Shinjuku,rings with the transience of all things. The cherry trees in full bloom can be cut down. 'That's fine,' Arimoto says. 'What does the Sakura tree symbolise or represent?' 'Change is always welcome.' From above, Sakura trees in full bloom standin the vacant lot. From the ground, a woman inao dai traditional Vietnamese dress stands at the branch of the tree.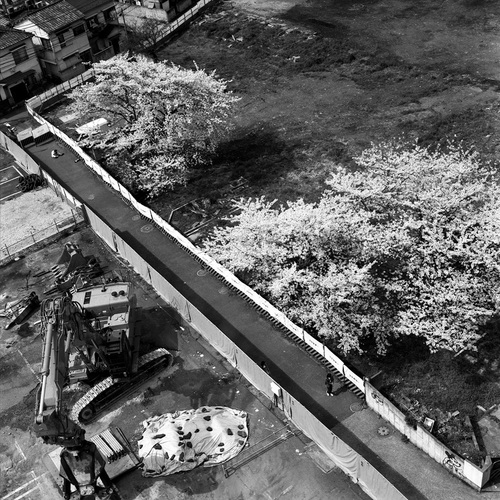 Tokyo spreads like an anthill. An expanse without structure or order, change, layers of memory, or the sudden disappearance, that is Tokyo. It will never be one of the planned, historically constructed cities seen in the western world. A post-structuralist philosopher expressed Tokyo as 'archaic', and we are immediately urged to ponder modernity and aesthetics with which we are intertwined. 'Tokyo has a magnificent beauty in aerial photography shot at night.'
Back in his high school days, having modern and refined Tokyo pictures in his head, Arimoto opened Masatoshi Naito'sTokyo: A Vision of its Other Side. The photographs within crushed his idea of the capital of our country. He enrolled in a photography school at twenty years old, and studied under Shunji Dodo. Arimoto's early theme was Tibet. The photographs captured nomadic people moving across the plateau. The sheer beauty of their dignity and fortitude astounds us. Most Tokyo-ites would reflect on their weak backbones andpaleness. Arimoto thought so too. However, as he started taking pictures of his 'home ground', capturing the 'actions of primitive life' in people living in the street just as he perceived in Tibet the wild animals and plants.
In 2011, after the Tohoku Earthquake, he changed his camera, since he saw the darkness of his previous works. Since then Ariphoto was shot without using the viewfinder. In 'Tokyo Circulation' the composition also changed. This imposed another change on the photographer. With the wide lens, he needed to come closer to his subjects. 'It requires a considerable amount of energy.' He rejoices not only in the changes of the city but also drives changes in himself.
He persistently rejects and despises any negativity, in relation to his past unpleasant memories and his 'gloomy' personality. But when this personal trait drives his creative aspiration, it turns to an illuminating, severe anti-thesis for nihilism, and is no longer in inner conflict. 'Many say they do not want to serve as a cog in society but I am willing to serve Tokyo.'
The photographs of Arimoto overturn everything, and, moreover, equalise all; the human world and nature, weakness and strength, civilised and primitive, and organic and inorganic. Ariphoto is a joyful ballad dedicated to, and in praise of, contemporary life, by the photographer delighted to be part of the circulation and evolution of the ecosystem of this city called Tokyo.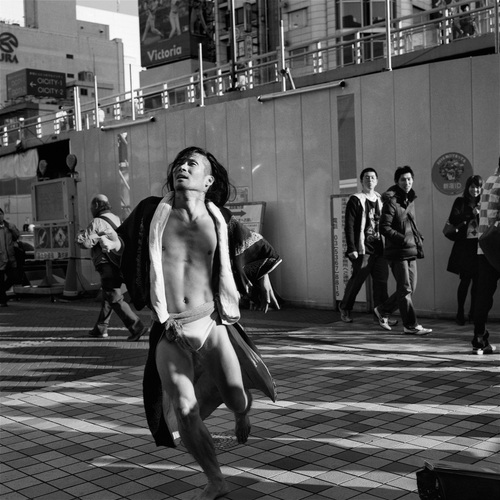 Fin.
Text by Ayako Koide
-
Editor's Note:
Photography Exhibition by Shinya Arimoto 'Tokyo Circulation'
July 2 - August 3, 2016 at Zen Foto Gallery
Related Publications by Shinya Arimoto