Satoko Noguchi "Jizo" Dreams 
Satoko Noguchi (野口さとこ) travels Japan seeeking out the Jizo stone figures that stand by roads and paths throughout the country.
The result has been the exhibition and book published by Zen Foto, "Jizo Dreams" (「地蔵が見た夢」)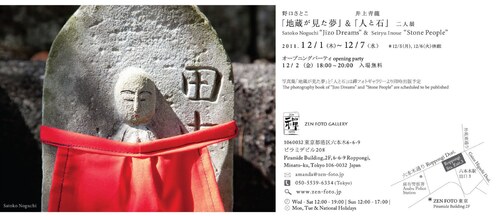 The Jizo of Japan are often found along paths and old roads, and loved by local people for protecting children. Many also look after travellers and firefighters, and are sought out by those who would know the meaning of their dreams. They comfort to those who have lost children, or babies who did not survive to birth.
Each region of Japan has their own traditions related to the Jizo. They often paint the Jizo's face, so his expression changes over time. Satoko Noguchi travels the country seeking out Jizos. One of the photographs in this book shows a Jizo with closed eyes. When she next returned to visit him she was surprised to find that he had opened his eyes!
The Iron Age lasted around 500 years. The Bronze Age lasted over two thousand years. The stone age lasted over two million years. We are still getting used to metals, but as human beings we evolved with stone, and we are comfortable living with stone. The Jizo are our ancient friends.
Satoko Noguchi herself writes:
"For many years the Jizo has sat there, watching people pass by, comforted those who were sad, listened to their prayers and wishes, cared for children, and protected the land. The Jizo has had the fathomless compassion and tenderness to accept all and everything."
長い年月その場所で、人々の往来を見守り、悲しむ人をなぐさめ、願いに耳を傾け、子ども達をいつくしみ、
その土地を守ってきたお地蔵さん。そこには、温かく全てを受け入れてくれる何か底知れない優しさがあった。
Exhibition at Zen Foto, Roppongi Tokyo 1-7 Dec2011, "Jizo Dreams" book with photographs by Satoko Noguchi published by Zen Foto Gallery




Related Publication: