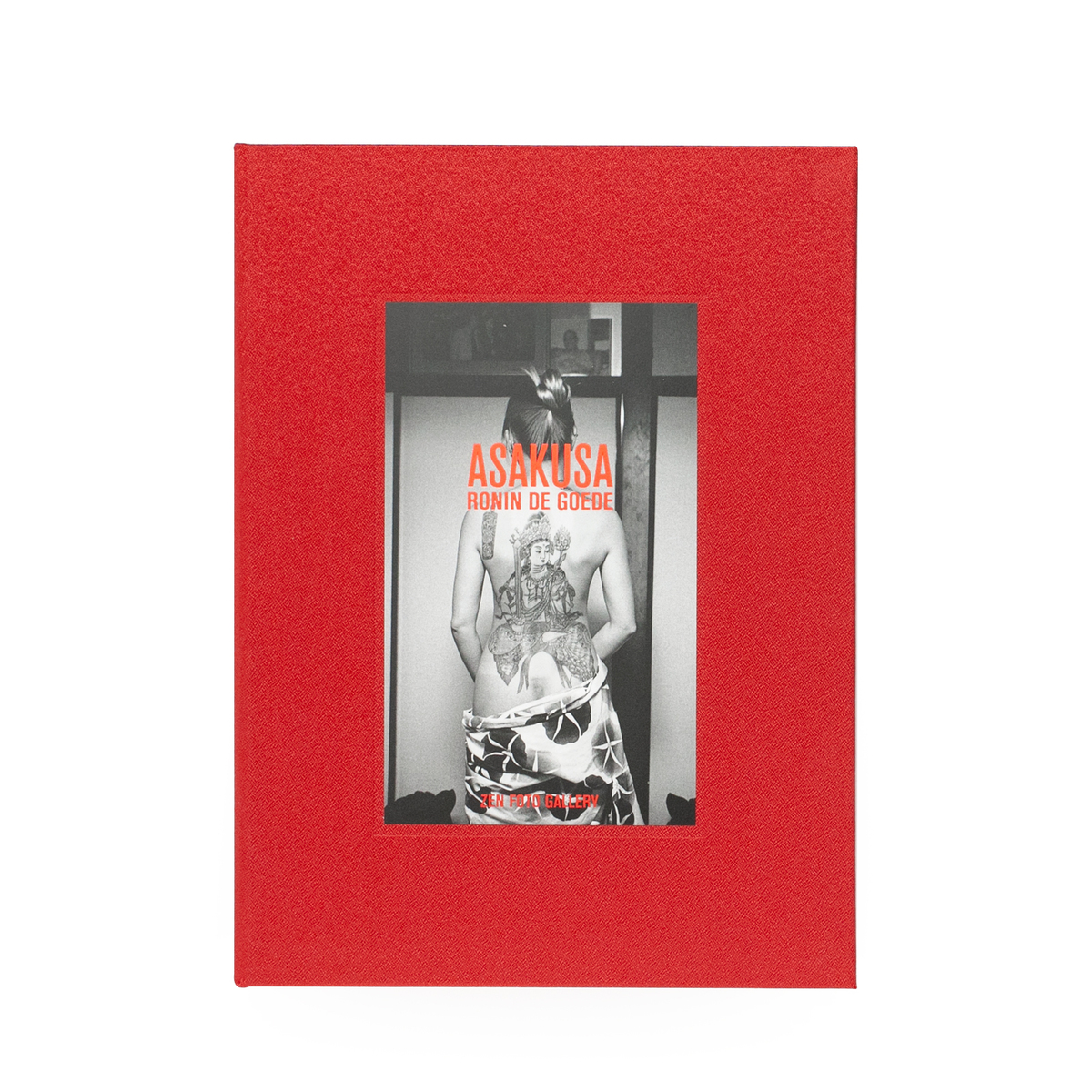 ASAKUSA is Ronin de Goede's visual diary of the time he spent following Horikazu, the traditional Japanese tattoo master in Tokyo's Asakusa district.
"In 2011, Ronin knocked on the door of the renowned tattooist Horikazu shodai. Hoping to meet the great man himself, he was dismayed to hear from Horikazu's wife that he was terminally ill and couldn't receive visitors. A shout stalled his dejected trudge away from the house: Horikazu's wife had called her son, who had already despatched a black Mercedes Jeep that arrived soon afterwards. Ronin was whisked off to a restaurant to join Horikazuwaka, himself a hugely accomplished tattooist who apprenticed with his father, at a party at 'the big table at the back'. This is where Ronin saw the finest collection of some of the world's most famous bodysuits and met high-ranking yakuza for the first time. 
The second time they met was in Europe later in 2011. In the meantime, Horikazu shodai had passed away and his son had adopted his father's name. He'd travelled with some of his clients to a tattoo convention in Frankfurt, and a group of them had continued on to Amsterdam. Ronin escorted the Japanese delegation as their guide while they were in town: for most of them it was their first trip to Europe. (...)
Ronin returned to Japan in 2016 with a mission: to photograph Horikazu's work — and him working — for a publication on the art of traditional Japanese body suit tattooing. Resolute Ronin observed numerous tattoo sessions while confined to Horikazu's studio. His respectful silence and focus did not go unnoticed, and after a few days he was invited to assist with daily tasks that are normally assigned to an apprentice. And finally, without him having to ask again, he was allowed to pick up his camera and start shooting. Horikazu kept him close for the rest of his visit.
Since then Ronin has returned two or three times a year and met more of Horikazu's yakuza clients, including some mid-ranking bosses, lieutenants and foot soldiers. Every time he goes he arrives with prints of the photos he'd taken on the previous trip, depicting, among other subjects, Horikazu's tattoo studio, client portraits, reportages of the Sanja matsuri, and intimate shots of gang members enjoying life, also with their families (closer you cannot get!). His photographs are received with great joy and often sent to the local bosses and their lieutenants who had posed for him. Two years ago he became an official photographer for the largest yakuza group attending the Sanja matsuri, the 5th Takahashi-gumi (a subgroup of Sumiyoshi-kai, the second largest crime syndicate in Japan. (...)
In this publication, more abstract photographs that make fleeting moments almost tangible while never truly revealing their subject serve as counterpoints to these articulate, narrative images of people going about their business, but mostly pleasure. Ronin's high-contrast black-and-white photographic style is synonymous with an approach known as are, bure, bokeh (rough, blurred out, out of focus), which first saw the light of day in Japan in the 1960s and 70s. (...) This movement was centred on Provoke magazine, which pioneered this raw, anti-aesthetic genre of photography that still prevails today. (...) The black-and-white, abstract photos represented not only a new attitude towards the medium, but also towards reality itself. The viewer is invited to fill in the blanks, so to speak. Subjects not entirely in focus or even heavily blurred can be representative of anything or anyone: less factual information leaves more to the imagination. It's a style that invites reflection as opposed to today's culture of interchangeable and disposable content that can be understood at a glance."
― Excerpt from afterword by Mark Poysden