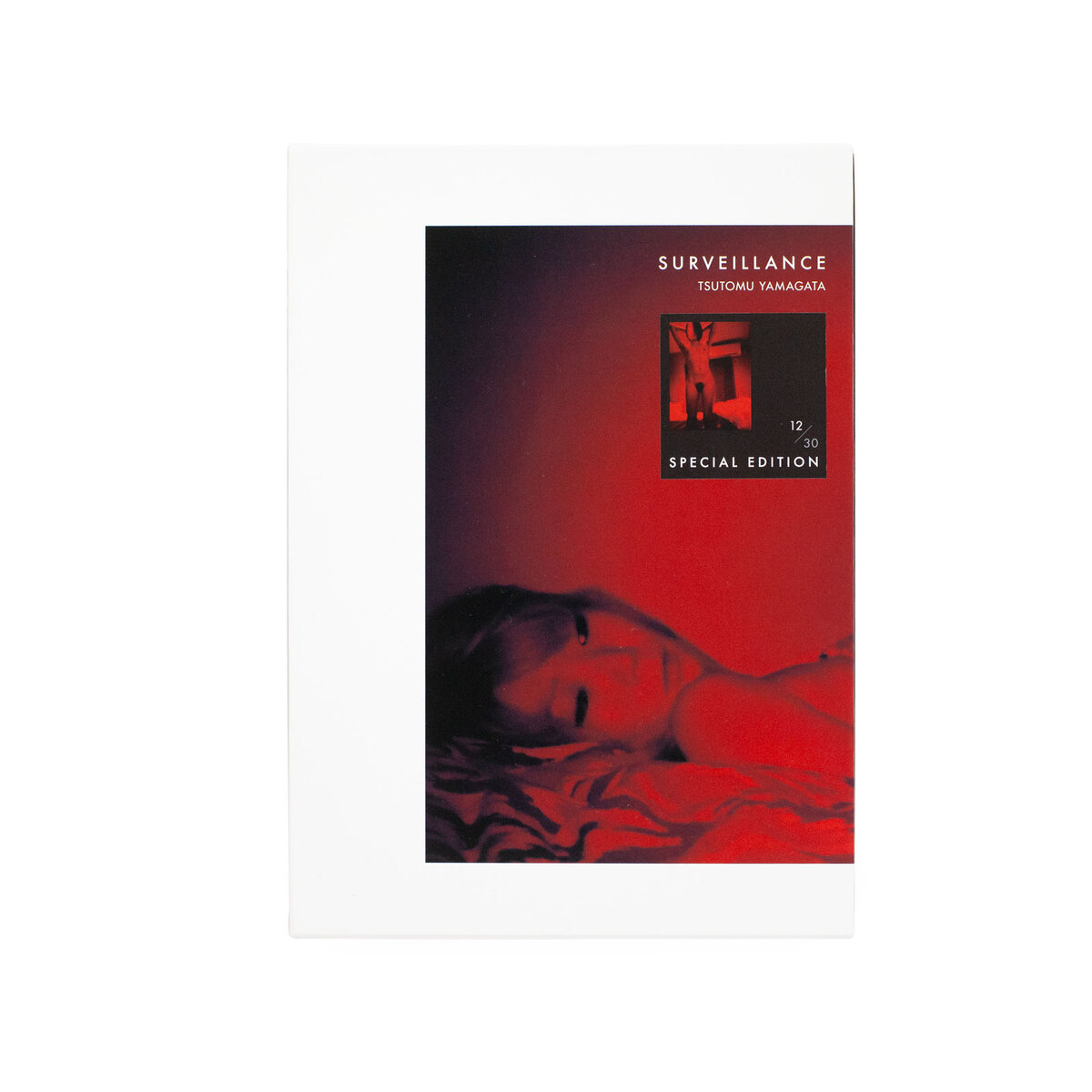 Signed, Special Edition
観察 SURVEILLANCE Special Edition (B)
The Special Edition of Tsutomu Yamagata's new photobook "Surveillance" is now available. In addition to the gorgeous photobook – 64 sheets in a slipcase, plus booklet – the Special Edition includes a matted high-quality photograph (178x127mm, digital Type-C print) signed by the artist. The photograph is available in three different motifs, each limited to an edition of 10.
For his latest project "Surveillance," Japanese photographer Tsutomu Yamagata installed infrared cameras usually used in wildlife photography in the rooms of (consenting) young women. The cameras, operating completely independently and offering no chance to review images, captured the women as they spend their lives, as naturally and unaffected as possible.
The resulting series of photographs, as presented in the gorgeous book "Surveillance," is also a reflection on the implicitly objectifying nature of the project.
"They slither into view with gleaming eyes. Their skin look as smooth as porcelain, as the actual texture could not be captured with the infrared camera. […]
They know about the spectator's existence but sometimes they simply forget about being watched. viewers may feel tricked and disappointed by what they see, full of unresolved curiosity, like the times they are unable to spot the animal in the zoo. After all, the ones watching are completely ignored."
— from Yumi Aota's essay
"Occasionally, they would deliberately pose in front of the camera in the dark, and during the other times their daily lives were being recorded, unconscious of the camera. The camera would keep shooting even though they might have eventually grown tired of being photographed. When they returned the camera to me, they seemed to be more curious about the results than I was, as if they were peeking into the lives of other people."
— from Tsutomu Yamagata's afterword
Print with book mat

Print Size

178 × 127 mm

Print Type

Digital C Print
-
Photobook

Book Size

256 × 181 x 31 mm

Pages

64 sheets, with a supplement

Binding

Slipcase

Publication Date

2018

Language

English, Japanese

Limited Edition

10