Some months ago we were asked by Glass Magazine to interview Yang Yankang about his work. A few extracts of the interview were included in Glass Magazine's highly interesting edition on Religion in Photography, to which we refer our readers. However, there were many interesting comments from Yang Yankang that did not make it into print, and there is little information about Yang Yankang in English, so in the interest of contributing to the awareness of his amazing and beautiful series of work "Buddhism in Tibet", we decided to release the full interview here, retaining also the original Chinese responses for those who prefer to read them.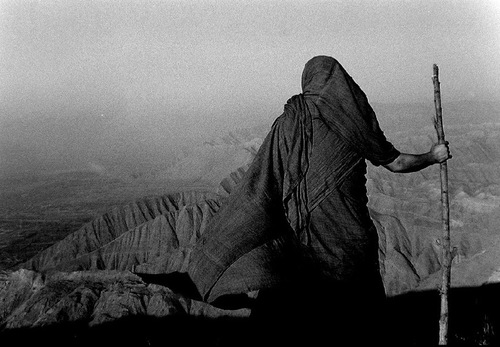 你的攝影創作是否也多少源生於內心的信仰?你本身是否信仰宗教?
Are you religious? Does your photography also emerge from a spiritual place?
雙重的信仰,同時信仰兩個宗教,天主教和藏傳佛教。前者開始於1993因為開始拍攝陝西的天主教專題而開始信仰。一個攝影師要有信仰的勇氣,去相信他們。人有了打從心裡面的信仰,會因為信仰的規範,而透過信仰看到人與自然的關係,「有信仰是很幸福」,懷著感恩敬畏之心,不去做違背道德的事情,透過融入其信仰的生活,以平易親近的方式,活在信仰裡而去做記錄的動作,才是最真實最自然的。觀察擁有這樣信仰的人對事物的看法和生活的態度。02年曾經將天主教一系列作品帶到法國、歐洲世界各地參展,主要是能將中國對於信仰的自由這一面真實的樣貌讓世界各地的人知道,繼而產生了拍攝其他宗教信仰專題的想法。信仰天主教之前,已多少接觸過藏傳佛教的活動,本來就是個佛教教徒,不論是天主教或是藏傳佛教,都是從心裡面出來的,由心而生,對我的工作,融入他們的生活,一起來工作。源自內心的信仰,而去做「記錄」的動作。
I have tworeligions, both Catholicism and Tibetan Buddhism. The former one began in 1993 when I started the project of Catholicism in China's countryside. "A photographer should have the courage to believe in faith, and to trust them". If people have the faith from the bottom of their heart, with the standard of faith, and through the eye of religion to see the relation between human being and nature, "to have faith is happiness". With a heart of thanksgiving, and do not do things that are against morality, and to live within the faith, to record the life of faith, to approach in the most amiable way. To observe the people who have faith, to understand their attitude, their point of view in life. In 2002, I showed the "Catholic in the Countryside" series in France, and other countries in Europe, to tell people around the world about the "freedom of religion" in China, to show the "real face" of China, and that gave me the idea to do another project of "religion". Before I converted to Catholicism, I had experiences of participating in Buddhism events, and I am a Buddhist as well, but no matter whether it is Buddhism, Catholicism or Tibetan Buddhism, it's faith from the heart. I become one of them, and work with them to record their life in faith.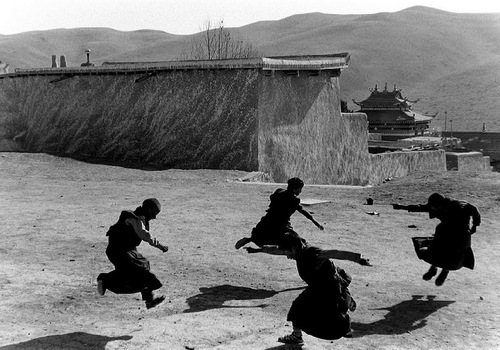 請問佛教思想對你的攝影作品在哪些方面產生了影響?
In what ways does Buddhism influence your photography?
以前在中國拍照片,難免急功近利,以前照照片會有功利之心在裡面,做藝術作品,有信仰的人,從信仰的生活中,用十年的時間,一起生活,看他們如何在自然中面對困難,有信仰的照片會變得很平近。很真實,從他們的眼睛可以看到他們的心靈,從心靈看到他們對自然、人為的困難刻苦。平近的狀態下。有受影響,佛教思想對事物看法「隨緣」,「淡定」,「平靜的心態」影響我。因為中國現在很自由,很多東西都發展的很好,都可以自由平等的去信仰,特別是我在藏傳佛教(特殊的信仰)情況裡,透過我學的攝影,我是個攝影師,去看「有信仰的人是怎麼樣去生活的」,「怎樣去感恩的」。
During the past, in China, I was a bit eager for quick success and instant gain, so my previous works were utilitarian, more or less. As an artist, if we have faith, in the life of faith, spend ten years, live together, and see how people face the challenges in nature, photograph with faith becomes sympathetic and real. You see peoples' minds through their own eyes, you see how they face difficulties in nature through their mind. Of course Buddhism influenced my photography, such as how does Buddhism see things, "follow God's will", "calm", "peaceful mind". Especially in China nowadays, it's very free, many things are almost well developed, and people have freedom to choose their religion, for me, as a Tibetan Buddhist (a special religion), through my photograph, I am a photographer, to see "how do people with faith live", "how they appreciate".
你認為一個具宗教信仰的人和拍攝宗教信仰類的攝影藝術家之間有何不同?
What differentiates a religious person from a religious artist?
不信仰的人,可能只為了一個名利、目的去獲取別人的生活狀態,很為了展覽,出版去做。有了信仰,會把這些事物變得很平近,真實的原本的紀錄他們的狀態。
People without faith might be doing something for fame or with purpose in order to aspire to another state of life, for doing a show/exhibition, for publication. With faith, it turns everything into a very easy to access, real state of life.
「藏傳佛教」系列的靈感來源?
What inspired your "Buddhism in Tibet" series?
從天主教轉到藏傳佛教,一個信仰到另一個信仰的延續。不管是什麼教,有信仰的人是很幸福的。中國有些人沒有信仰,會做違背品性的事情。有信仰的人,人是看不到,但是神是看得見的。有神明在會對其約束。因為在藏地,四川,青海,雲南西藏,是自然隨性,人是生活在自然中而去掌握神給他們的一切,一切感恩上天,認為挑戰是神明給他們的考驗。結束的關鍵點,1993年認識了在陝西的幾個攝影家們,有一些信徒們,就去拍了這個專題,拍十年,我以前拍天主教之前也去過西藏,也拍過一些西藏的問題,宗教活動,賽大佛騎馬等等那些「表面」的東西,為什麼我決定把藏傳佛教這專題延續下去,2002年主要都在展覽,2003年才開始決定花同樣10年的時間。
"A continuation from one religion to another religion". Some people in China do not have faith, so they do things that are against morality. People with faith know that, even if people don't observe them, still God sees them, so God is watching, which restrains them from doing evil things. Because in Tibet, Sichuan, Qinghai, people follow Nature's way, and live within nature, take whatever God gave them, and appreciate God, they believe that's the challenge given to them by God.
In 1933, I met some photographers in Shanxi and some Catholics, so I decided to start the project, and then I spent ten years. Before I started the Catholic project, I'd been to Tibet, and took some photos of the issue of Tibet, religious activities and so on, touching the "surface" of the region. In 2002, I spent most of the time doing the exhibitions of "Catholic series", in 2003, I decided to spend the next 10 years on " Buddhism in Tibet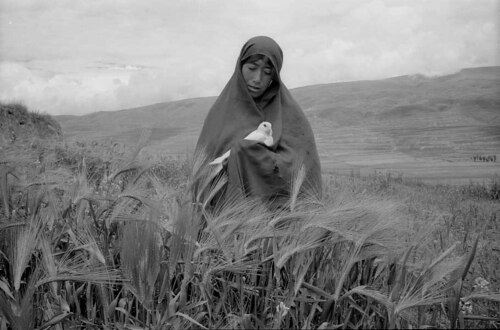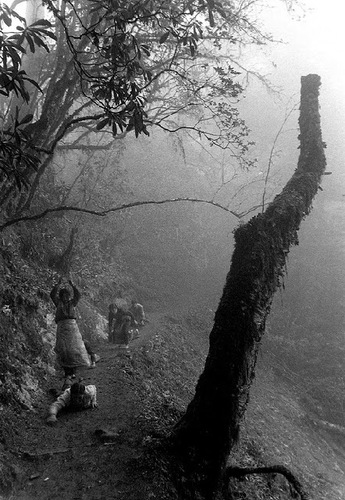 你認為透過攝影如何能架設起現實和心靈信仰之間的橋樑?
In what ways can photography bridge reality and faith?
藝術的表達。首先,作為一個影像攝影師,做詩歌的,做音樂的,寫小說的,透過我看到一種現象,看到我感動的東西,通過的心,眼睛,手,在一個媒介上,記錄下來,因為這張照片感動了我,透過媒體的傳播,發表,被收藏,讓很多人看到這影像,感動。藝術,照片也是藝術,通過一張照片,一個眼神,他的獨到,去不到的地方,他現實生活中,特別是現在中國生活特別急,煩躁,越來越功利,充滿金錢的情況下,我覺得還是要回歸到心靈,透過一個作品或是畫,音樂,一首詩,來感動。用一種行為來幫助別人,做善事,對自己的生活態度,做審視,這樣整個社會和人類就會有意義,而不是只有金錢物質。
Art as an expression. First, as a photographer, or as a poet, a musician, a novelist....I saw a phenomenon/moment, something that touched me, through my eyes, heart, hands, through media to spread/to be recorded, because the photograph touched me, and then it's published, in someone's collection, and more people have chances to see the image and be touched by the image. Art, photography is art as well. Through a photograph taken by a photographer, it shows the place that you never have chance to go. In our real life, especially in China, life is changing so quickly, and is so busy, people look for easier access to success....I think our lives should return to spirituality. Through art works, music, poetry, and feel the spirit, touched by the spirit. Do something to help people, and do something good to the whole society, examine our life, to improve, and then the society and the world will become more meaningful, not just full of materialism and money...
請問你認為攝影是否能協調理性成信仰?或是信仰成為理性?
Can photography reconcile reason to faith, or perhaps faith to reason?
是可以相互調節的。在特定環境中,生活不容易的人們,是如何面對挑戰,例如說草原上下大雪,牛羊無食物,這時候他們怎麼面對下雪這樣的自然挑戰,心理承受的力量在哪裡?透過宗教信仰,這時候透過我的作品,我看到了我拍到了,我用心去把握到了,鼓勵了彼此。進而珍惜自己現在的生活。絕對是可行的,跟藝術一樣。可以協調的。
Yes, they can be reconciled with each other. In some particular environment, for people who have hard lives, how they face difficulties, how they suffered from the pressure? With faith, through my photographs, I showed people what I saw, what touched my heart, and hope to encourage others, to treasure our present life.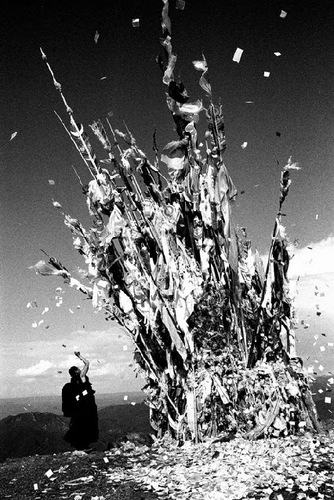 你認為攝影是否站在工藝技術和唯心論的交叉口?或你認為攝影的發明是否逐漸破壞了信仰?
Does photography lie in the intersection of technology and spiritualism? Or do you think photography's invention has irrevocably undermined the spiritual?
不會,即使這是種技術的發明,最後掌握相機(技術)的還是在於「人」本身。人是有感情,有感恩之心,有判斷的。數碼相機的發行,影像記錄變成更加公眾化,快捷化,自由,誰都可以拍照,但是專業攝影師,還是不同的。藝術家心裡是豐富的,也是感情的,一張照片的把握取捨是有自己判斷的,這個判斷也是通過專業去選出好的作品出來,
藏傳佛教我本來就決定花十年的時間,目前已經十一年了,我只選出80張是我最滿意的最喜歡,我就覺得夠了,這其實是很不容易的一個過程。無論如何掌握相機的都還是「人」,人有感情。相機,只是一個手段而已。會不會蒙蔽到人,當然人現在往往因為金錢,現實,人情味漸失,通過藝術作品,把人之間的感情重新溝通起來,連結起來。
Photography may have been invented as a technique or device, but it's "human beings" who control the camera. Human beings have emotions, we appreciate what we have, we have a sense of judgment. Along with the invention of the digital camera, it speeds up the use of cameras among the public, and gives freedom for people to record life easily. However, profession photographers are still differently. Artists have rich hearts, and we are sensitive, we select what we think is "good work", based on our professional experience.
Before I started "Buddhism in Tibet", I decided to spend ten years on the project. Now it has been 11 years, I have selected only 80 works that satisfy me, and I think it's enough. It is not a easy process for me to select 80 works. We, "human beings" who control the camera, we have emotions. The camera is only a device. Through art, to reconnect the relationship between people.