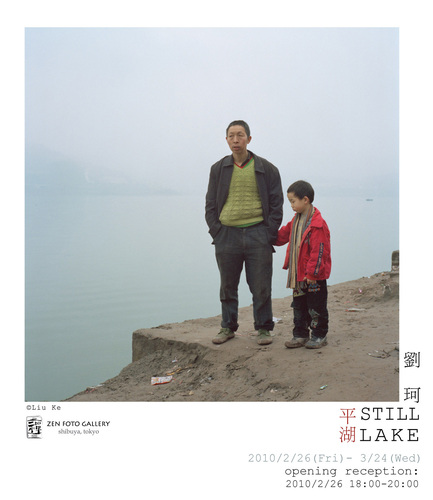 2010/2/26 (Fri) -3/24(Wed)
Opening Reception: 2010/2/26 (Fri)18:00-20:00
The title of Liu Ke's work "Still Lake" derives from a poem by Mao ZeDong. The poem imagines still waters rising behind what we now interpret as the Three Gorges Dam Project, one of the greatest civil engineering works in history. Liu Ke has photographed the region affected by the dam along the banks of the Yangtse River and around Chongqing, questioning the price paid by the people living in the region.
At first sight Liu Ke's work is calm and undemonstrative. We feel the alienation of people in everyday life in China, and specifically in the "Fog City" of Chongqing, also known as one of the "three Furnaces" of China for its intense summers. Extremes of heat and cold, dirt and noise oppress everyday life around the vast building sites. Then, rather surprisingly, the photographer picks out an absurdity and some beauty amid the chaos. We now see the people's resilience and Liu Ke's sympathy and love for his fellow countrymen.
劉珂的作品"平湖"一詞本來自毛澤東的"游泳"這首詩。在詩中,毛所描繪的平湖正是史上浩大工程之一的長江三峽大壩工程竣工後的預景。劉珂走過長江沿岸各地且拍下變化中的那些人,事與物,其中也包括重慶近鄰的地區。他用他的鏡頭質問,居住在這些地區的人們究竟花費多少的代價才總算換來一個"平湖"。
初視劉珂的作品,是沉穩且含蓄的。我們感受到些許被遺留下的孤獨疏遠感,尤其是在有"霧都"和"中國三大火爐城市"之稱的重慶,極端的酷熱和寒冷,骯髒和噪音共存在每個廣闊的水泥建築周圍,壓迫著每天的生活。然而,出乎我意料的是,攝影師反而選擇巧妙地捕捉混沌中的怪誕美感。在他的作品裡,我們看到了人們適應生活的堅強韌性以及他鏡頭下對他所愛的同胞們的關懷。
Related Publications: